The rock-solid team at Cascade Game Foundry (CGF™) is composed of entertainment simulation experts from the former Aces Studio, Sports & Racing Studio, and other groups in the Microsoft Games Studios.  Our unrivaled expertise and passion for simulations and entertainment software enables us to provide breathtakingly-accurate simulations for hardcore audiences, as well as compelling exploration gameplay for casual audiences.
We bring a rich level of expertise in programming, design, production, art, and audio, across the PC, Xbox, mobile, and VR platforms. In addition to our independent releases, Infinite Scuba, Dive with Sylvia VR, and Rescue Bear Operation, we have also completed numerous bespoke projects for a diverse range of clients including Neil Young, BASE Entertainment, Imagine Exhibitions, EWI Worldwide, Victory Hill Exhibitions, ThoughtOps, Mimic Technologies, and Bridge Partners Consulting. Our team members have also shipped dozens of successful titles in the Simulation, Action, Racing, Strategy, and Sports genres while working at Microsoft, including Microsoft Flight Simulator, Microsoft Train Simulator, Microsoft Combat Flight Simulator, Project Gotham Racing, Forza Motorsports, Alan Wake, Fable, Kinectimals, Halo, Shadowrun, NFL Fever 2000 – 2003, and many others.
We build products that delight, amaze, and educate players about the world around them, using the latest game engineering, virtual reality, and social-media technologies.
"See what everyone else has seen and think what no one else has thought." Albert Szent-Györgyi de Nagyrápolt
Our Team…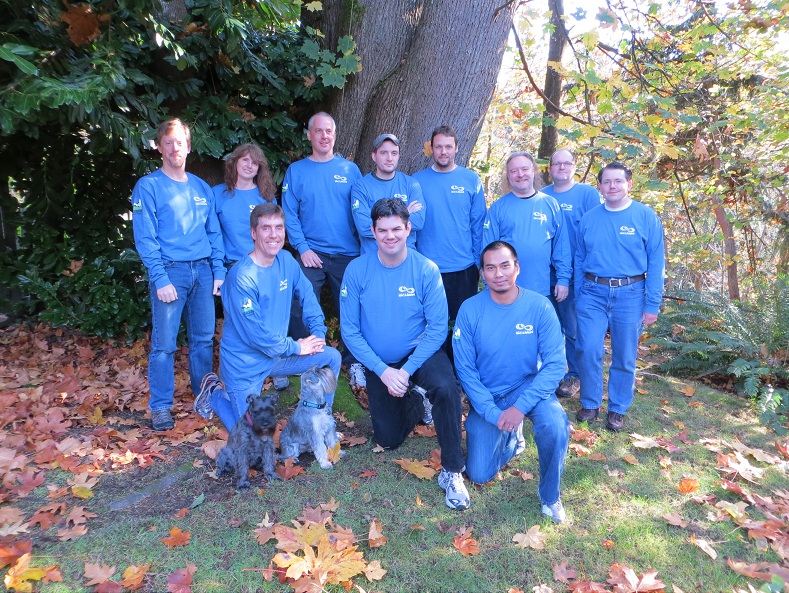 Kathie Flood – Managing Director & CEO Kathie is an accomplished video-game producer and entrepreneur with over 20 years experience delivering ground-breaking, best-selling titles on-time and on-budget. Prior to co-founding Cascade Game Foundry, she worked in the Microsoft Games Studios from 1994 through 2009. Shipped games include Infinite Scuba (Windows & Mac PC), Dive with Sylvia VR (Oculus Rift), Project Gotham Racing 4 (Xbox 360), Project Gotham Racing 3 (Xbox 360 launch), NFL Fever 2003 (Xbox Live launch), NFL Fever 2002 (Xbox launch), NFL Fever 2000 (Windows PC), Soccer 1.0 (Windows PC), and numerous prototypes that never saw the light of day. Prior to games, she worked in Microsoft Research and Microsoft Systems. She holds a BA in Mathematics/Computer Science (Central College) and an MA in Journalism/Mass Communications (Drake University). She likes to run (slowly!), bicycle, scuba dive, and play the drums.
Russ Glaeser – Development Director Russ has extensive experience developing simulations, starting in 1994 at the Bruce Artwick Organization (BAO) working on Microsoft Flight Simulator, and was part of the Microsoft acquisition of BAO in 1995.  Additionally, he worked on Combat Flight Simulator for the PC, and Fable 2, Alan Wake, Crackdown 2, and Kinectimals for the Xbox 360, as well as several other unannounced titles from Microsoft Game Studios.  Russ also spent several years working on Windows/Office projects, an experience which convinced him games are way more fun than operating systems.  At Cascade Game Foundry, Russ has led the programming for Infinite Scuba, the Connected Car demo (for AT&T), and numerous other external contracts. He graduated from the University of Illinois at Urbana-Champaign with a Master's Degree in Natural Language Processing, which also isn't as much fun as games.  Russ is also a volunteer diver at the Seattle Aquarium and rides his bicycle across Iowa every July.
Geoff Dahl – Development Geoff has over 20 years experience in computer software engineering and management. For the last 8 years he has been President and CEO of NeoCode Enterprises providing software engineering and program management consulting services.  Clients have included everything from small startups to Fortune 500 companies.  Prior to NeoCode, he held positions as Director of WebDriver Engineering at Wild Tangent and Lead for Audio on Windows at Microsoft. He worked on multimedia technology for all Windows OS releases from 3.1 through Win95, as well as Video for Windows and DirectX. Geoff holds a degree in Mathematics from the University of Waterloo and enjoys windsurfing, paragliding, hiking, astronomy, photography, and of course, computer games.
Birney Mitchell – Scenery Art Lead Birney started working in the industry in 2003 as an intern with Microsoft Game Studios. Over the years he has helped create multiple titles from Microsoft Flight Simulator, to Forza Motorsports 2. Most recently he played a vital role helping to create Microsoft Flight. When he is not playing games or creating games, he is out camping backpacking and enjoying numerous other outdoor activities.
Robert Smiley – Character Artist & Animation Director Robert Smiley is a traditionally trained graphic artist who moved into CG art in the video post-production world.  He began his video game career as an animator on the Microsoft Sports titles for PC and Xbox and has worked for other game companies, such as Sierra Games and Sony.  He brings his past experience in graphic design, modeling, texturing and animation to the Infinite Scuba team. Robert is responsible for the development of the game's diver characters and has also contributed to the project in animation, logo design, and the creation of wetsuits and other dive gear.
Margue Hunt – Business Operations Management & Strategy Margue is a proven business leader with a blend of strategic, program management, and operational skills specializing in transforming a business and building alliances that drive exceptional results for startups (ArchPatent, SoftNAS, TidalScale, AtomOrbit, GoKube, Cascade Game Foundry), professional services (Mactus Group, Startup Accelerators LLC, ), technology (Microsoft -12+ years, McCaw Cellular), and retail companies (Associated Grocers, Supervalu, Haggen). As a business development and strategic operations professional, she ensures the delivery of the desired results broadly across very large companies, start-ups and partnerships. She has the keen ability to link strategy, people and operations, contributing high value to every engagement, solving the most difficult & complex problems, and connecting great people to do great work; her approach to developing and evolving strategic direction for business & products is uniquely valuable and incorporates business process management with cloud services solutions. Margue earned a BA in Finance and a BS in Econometrics from Western Washington University in Bellingham WA.

Kiki McMillan – User Experience Lead Kiki is a 20-year veteran of the video game industry who started working at Microsoft as a technical writer in 1990. During her tenure as Senior Writer for Microsoft Game Studios, she has donned fireproof underwear and completed the three-day formula car racing school at Laguna Seca Raceway in Monterey, CA, bounced up and down in a wrestling ring in the middle of the AlamoDome with professional wrestler Hulk Hogan, and perched next to Paul Newman on the pit wall at California Speedway while Indy cars hurtled by at triple-digit speeds. She has also repeatedly crashed the F/A-18 Hornet Fighter Attack Jet simulator used to train Blue Angels pilots, earning the nickname "NAFOD," which stands for "No Apparent Fear of Death."
Her video game credits include Monster Truck Madness 1 & 2, Midtown Madness 1 & 2, Motocross Madness 2, CART Precision Racing, Zoo Tycoon 2, Combat Flight Simulator, Windows Entertainment Pack, Project Gotham Racing, Rallisport Challenge, Crackdown, 100 vs 100, Game Room, Forza Motorsport, Project Spark, Lips: I (heart) the 80s, Full House Poker, Halo: Spartan Assault, and Halo 4, to name a few.
Kiki earned her BA and MA in English (emphasis: Media Rhetoric) from Chapman University. She also completed course work for a PhD in English at the University of Washington, but was recruited by Microsoft before she had a chance to finish her dissertation.
Pat Cook – Game Design  Pat has designed and produced simulation and entertainment experiences for more than 20 years on a wide variety of devices.  He has shipped more than 70 titles ranging from sports (Front Page Sports series, Xbox Sports) to racing (Midtown Madness, Project Gotham Racing, Rallisport Challenge, and Forza) to flying (Flight Simulator X, Flight) as well as real time strategy, arcade, and casual games (Rocket Ranger, Outpost 2, Hexic).   This deep and eclectic background helps him craft the right balance between realism, ease of use, and sheer fun, creating experiences that appeal to first-time-users as well as those looking for a deeper challenge.   His motto and motivation are simple: "Delight the player!"
John Carlton – Artist, Animator John has been hooked on video games for decades… ever since Pong bonged him in the head at the mall.  He started working in the game industry in the early 1990's after getting his BFA in Film and Video from the University of Illinois at Chicago. His first job was at a video arcade game company where he learned about making games fun to play and fun to look at. There he was part of the teams that made NBA Jam, NBA Hangtime and War Gods. After moving at the end of the twentieth century to the beautiful Pacific Northwest (where he is frequently distracted away from the video screen to go outside by the spectacular environs) he has worked on titles like Stunt Racer 64, Forza Motorsport and Flight Simulator. In addition to his work with Cascade Game Foundry, John is also frequently involved in local community events, travel, unusual art and/or whatever catches his attention that day.
Ron Cole – Composer Throughout his career, music composer Dr. Ron Cole has operated in a variety of contexts. His arrangements and compositions have been featured in repertoires of saxophonist Don Lanphere, the New Jazz Messengers big band, Extensions, and on brother Richard D. Cole's jazz recordings. His current passion is composing music for the projects of Cascade Game Foundry.
A current member of the jazz septet Extensions, the Roadside Attraction Big Band, the Freddy Pink Band, the Seattle Wind Symphony, and Brass Band Northwest, Dr. Cole is also an accomplished trumpeter who performs additionally on the rare Electronic Valve Instrument (EVI). His activities have included performances with leading artists and ensembles, ranging from Natalie Cole, Ray Charles, Lenny Williams, Michael W. Smith, Don Lanphere and Deniece Williams, to the Northwest Chamber Orchestra, Cascade Symphony Orchestra, and the Bellevue Philharmonic Orchestra. He also served as Director of Instrumental Music at Olympic College in Bremerton, Washington.
After attending Western Washington University where he earned bachelor's and master's degrees in music, Dr. Cole earned his Doctorate of Musical Arts in Trumpet Performance from the University of Washington in 1998. His dissertation was titled The Electronic Valve Instrument: Nyle Steiner's Unique Musical Innovation.
Besides performing, composing and arranging, Dr. Cole teaches advanced trumpet, jazz improvisation and music theory. He has also led a parallel life as a former user experience studios manager for the Microsoft Corporation.
Advisors & Former Participants
Rick Selby – Co-founder & Advisor Rick brings a passion for railroads and over 20 years of product design and program management experience to Cascade Game Foundry. Prior to co-founding CGF, Rick worked as the Lead Game Designer on Microsoft Train Simulator 2. Before that, he supported Microsoft's Train Simulator franchise in varying capacities for almost eight years. Rick started at Microsoft in 1998 and has also worked for AT&T Wireless and Boeing doing instructional design and development, including simulations. Rick's a well-known personality in the railroad hobby industry, and he brings deep insight into the railroad hobbyist consumer and what they look for in a simulation-based entertainment product. Rick graduated from California State University (Chico) with a degree in Instructional Technology/Communications. In his spare time, Rick enjoys photography, golf, automobiles, and railroad models and history.
Kathy O'Keefe – UI Art & Design Kathy started out her professional career as a product designer for exhibits, toys, and other consumer products. An interest in using computers to design lead her to an MFA graduate program. Post grad school, she worked on a variety of game projects before coming to the Microsoft Game Studios' NFL Fever franchise where she worked as a 3D artist, modeling football player models and building stadiums. With 9+ years of gamework, she is currently adding her varied design background to the User Interface for Infinite Scuba.
Jon Davis – 3D Artist Jon is a talented 3D artist and researcher with an enduring interest in simulations, railroads, and aviation.  Prior to joining Cascade Game Foundry, Jon was an artist working on Microsoft Train Simulator 2 at the Aces Studio, where he modeled signals and other scenery assets, and specified hundreds of buildings and landmark objects to be built for the four high-detail routes and worldwide generic areas.  Jon was also involved in the TrainSim community as a producer of locomotive and rolling stock add-ons for the first version of Train Simulator.  He is an enthusiast of using computers to create accurate renditions of modern and historic settings and technology using simulations and 3D software.  In his spare time Jon enjoys photography, model building, and history.
Stephen Hauer – Senior 3D Artist Stephen has 10 years of experience as a 3D Artist and has worked on a verity of projects most notably, Halo 4, Halo 4 Spartan Ops, Flight Sim X, Train Simulator 2, Microsoft ESP, Forza Motorsports 2 and Avatar Kinect. He hails from Great Falls, Montana and graduated from the Art Institute of Seattle. He joined Cascade Game Foundry in 2009, following the closure of the Aces Studio.
Andre Roux – UI and Texture Artist Andre joined the Aces Studio in the Microsoft Games Studios in 2006 to work on Microsoft Flight Simulator X Acceleration, where he specialized in aircraft and landclass texture work. His work on FlightSim lead to a full-time position working for the now-cancelled Microsoft Train Simulator 2, where he textured over 30 trains and cabs, and expanded his skill set to 3D and UI creation. He joined Cascade Game Foundry in 2009, following the cancellation of FlightSim and TrainSim and the dissolution of the Aces Studio. Andre graduated from Western Washington University with a BA in Web-design and New Media.
Fahmi Adenan – Concept/2D/UI Artist Fahmi has over 10 years experience creating beautiful and inspiring conceptual designs, storyboards, textures, and user interface components for Microsoft, Sony, and Cascade Game Foundry. His assignments ranged from top-secret incubation projects and to games such as Forza Motorsport 3, Shadowrun, Crimson Skies: High Road to Revenge, Jack and Daxter 2, and currently, Infinite Scuba. He holds a BS in Interior Design from the Art Institute of Fort Lauderdale and an AA in Interior Design from the Art Institute of Seattle.
Kevin Gee – 3D Artist Kevin has been making video games for over 20 years, starting with the Super Nintendo, Sega Genesis, and PC platforms, on such titles as Tom and Jerry, The Hunt for Red October, and various educational Sesame Street titles.  In the mid 90's, he followed his twin brother, Irvin, to Seattle, to work for Microsoft.  There, he worked at the Digital Backlot on many different projects including Microsoft Flight Simulator '98, NBA Full Court Press, Microsoft Soccer, prototypes for Microsoft's Gaming Zone, Kid's Group Advertisement prototypes, Active X demo, Open GL demo, Sidewinder Game Pad storyboards, MSN launch demo.  Thereafter, Kevin found himself working at Electronic Arts, Seattle, working on The Need for Speed car racing franchise, creating track environments, as well as vehicle modeling, for five shipped titles, on multiple platforms.  More recently, he has worked as a Senior Car Artist for MGS at Turn 10 Studios' Forza Motorsports franchise, shipping versions 1 and 2.  Then, he went on to Zipper Interactive to work on the SOCOM series, shipping M.A.G., SOCOM 4, and Unit 13.  Before acquiring his Bachelor of Fine Arts Degree, he was in Engineering school for two and a half years, but decided that it was no fun, switched his major to Art, and hasn't looked back.  Kevin enjoys eating cookies and donuts, and ice cream.
John Paquin – Development (Advisor) John is a veteran game developer, with more than 15 years of experience developing PC-based simulations.  His list of published titles includes classic best sellers like Janes F15, Janes F/A-18, and 1942: Pacific Air War, as well as modern simulations like Microsoft Train Simulator 2 and the Mosby platform from BreakAway Games Ltd. After the Aces Studio closed in 2009, he worked at Amazon and Hidden Path Entertainment, and has recently started his own studio.
Travis Crowell – GIS Analyst Travis is a GIS analyst with a specialization in designing real world locations by combining the power of GIS with the glamour of video game technologies. Travis' senior project at the University of Washington in 2005 was a realistic fly-through of the Blue Angels course in Seattle to help the new pilots visualize the Seattle region. This project was the bridge that landed Travis at Aces Studio at Microsoft.  His primary role at Aces was to help create a seamless, believable data-driven world for Aces products which included Train Simulator 2, Flight Simulator X, and Microsoft ESP.  He helped to maintain a multi-terabyte geodatabase which was a pillar to simulating the earth.  From driving the World of Rails content creation for Train Simulator 2 to creating high fidelity scenery for the Flight Simulator X: Acceleration Pack, creating immersive environments on multiple scales is indeed a strong passion for Travis. Most recently, he was a GIS Specialist on Microsoft Flight.
Tim Harahan – Development Tim Harahan is a professional developer, improviser (Twisted Flicks, Quiz Show), and theatrical prop designer (Final Transmission, Where No Man Has Gone Before).  He's delighted to combine his passions for technical and experience engineering in pursuit of new frontiers in simulation gaming.
Pamela Jacobson – UX Researcher, UX Designer, Artist Pamela also worked in Microsoft's Digital Backlot aka IMP on the 2D Animation team for MS Golf and MS Baseball from '96-98. Subsequently, she moved into the MS Sports Games Group on the 3D Animation team for NFL Fever 2000. Next came MSN, some agency work, freelance and the June 2014 completion of a Graduate Certificate in User Centered Design at UW. Pamela lead a team of UX researchers in a usability study on the in-game tutorial for Infinite Scuba which introduces the user to the controls of the game.
Aaron O'Bryan-Herriott – Artist With 11 years of experience in game and simulation development as an Artist and Art Lead, Aaron brings the perspective and insight of an industry veteran to the table. His fascination with flight and ability as an artist led him to the doors of Microsoft Games Studios in 1998 where he stayed to work on 10 titles in the Flight Simulator, Combat Flight Simulator and ESP franchises. Before entering the world of software development, Aaron was on his way to a becoming an Aeronautical Engineer. He likes to make models, read a lot of non-fiction History, work on and ride motorcycles and craft oddities in various mediums (mostly wood and metal). He is a proud husband to a lovely and talented MFA and father to two precocious and hilarious children.